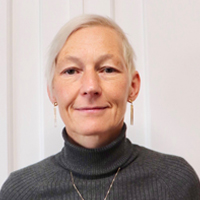 Verena Batschkus is an Executive Partner of Agere. Specialized in the Energy and Infrastructure sectors, with 8 years of experience in both industries through execution of transactions in an Investment Bank and 12 years in Corporate Finance. Prior to joining Agere, Verena held senior roles including: 2006–2018 CFO of Pillar Group BV, producer of silicon wafers for photovoltaic applications, 2002-2006 Senior Vice President of the Project Finance department of the German Bank HVB in Madrid and 1998–2002 Vice President in the Global Project Finance Department of HVB in Munich, Germany and London, UK.
Verena studied agricultural engineering from 1990 to 1997 at Munich's Technical University and terminated as PhD. From 2012 to 2017 she studied Spanish law at Universidad Europea de Madrid and is member of Madrid's bar association of lawyers. Languages (Proficiency Level): German, Spanish and English. Basic knowledge of French, Italian and Russian.
Verena was invited to teach at Escuela de Finanzas Aplicadas in Madrid in the module of International Finance.