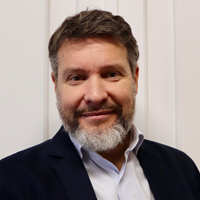 Luis Romanos is Executive Partner in Agere. Luis counts with c20 years of professional experience, most of his career in Investment Banking, jointly with a period as a manager in a Spanish company.
In Investment Banking, Luis has experience in several fields. He worked 8 years as M&A advisor across a broad range of industry sectors (mainly in Spain but also in Italy, France, Portugal, Poland and Brazil). He also worked in structured finance at Banco Espírito Santo de Investimento (now Haitong), leading Leveraged Finance deals in Spain as MLA with Private Equity funds, as well as more recently in Project Finance within the investment banking team at Bankinter (mainly in renewable energy projects in Spain). Luis also counts with experience in debt restructuring, as advisor in distress & special situations as well as in debt capital markets in Spain.
In his management experience, Luis has been CFO and Corporate Development Director of Gebomsa, a Spanish mid-size construction services company, managing teams in Spain, Portugal, Poland and Brazil. Luis leaded several debt restructuring deals, taking the responsibility of long term financing as well as the relationship with banks and shareholders. Luis was also in charge of the company's inorganic growth, leading acquisitions in Poland and Brazil, as well as the reorganization of the company's finance department. Luis acted as a member of the board in the holding company in Spain as well as in the subsidiaries in Portugal, Poland and Brazil.
Luis holds a degree in Economics from the University of Zaragoza and an MBA (2-year full-time program) from IESE at Barcelona.